With NetSuite OpenAir's resource management software, you can make sure that the right resources are working on the right projects, based on a real-time project timeline, and as the project evolves. Increase resource utilization and manage and deploy resources to projects based on employee's skills, interests, experience, and availability.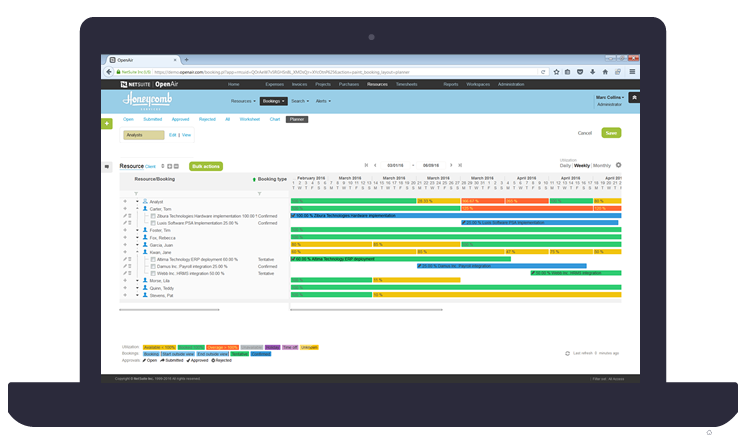 Track Skills and Availability
With resource management software from NetSuite OpenAir, you have centralized access to up-to-date, easily searchable profiles of resources skills, interests, experience, language expertise, work preferences, availability, and more, empowering you with the information you need in real-time. Update skills and schedules centrally, or allow users to directly manage and update their profiles.
Automate Resource Management Requests and Bookings
Looking to assemble the best qualified project teams? OpenAir's powerful resource booking/request workflows allow you to automate the process to map to your business and resource needs.
Manage Resources Globally
In today's global economy, it only makes sense that the right resources should make up a project team, regardless of their physical location. With OpenAir, you can manage a dynamic, global pool of resources, from one, central system. Deploy resources around the globe, bill their rates in the right currency and attribute their work back to the correct project teams internally.
Forecast and Report on Resources
View resource reports to determine staffing needs and improve employee utilization rates. Use robust utilization reporting, including capacity planning (FTE) forecasts and utilization by hierarchy (offices, line of business, etc) to drive financial forecasts (billings, revenue, margin) off of staffing plans.
Resource Management Library
Looking for more information on resource management best practices? Leverage our library of white papers and learn how you can evolve your resource management best practices to increase utilization and more. Self Assessment Guide for Resource Management—A tool for companies that want to better understand how their execution of resource management processes are contributing to inhibiting the bottom line. Calculating Utilization in a Services Company—Wondering what the best method is for your organization to calculate resource utilization? This white paper provides direction and tools to determine the best approach for your company and explains how to apply it across your organization.
Download the OpenAir Datasheet on Resource ManagementPDF(1.12MB) (opens in new tab)