Deliver on-demand, real-time data from one integrated solution
What is NetSuite OpenAir Reporting and Dashboards?
NetSuite OpenAir reporting and dashboards provide robust reporting and analytical tools that are integrated across all modules to deliver on-demand, real-time data. View and monitor key performance indicators (KPIs) and analyze metrics to give project managers instant access to the information that matters, like utilization, project margins, and budgets vs. actual.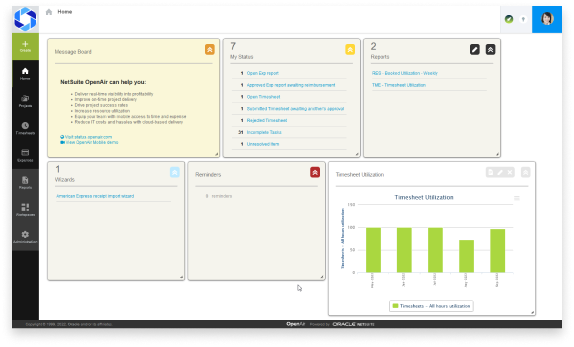 ---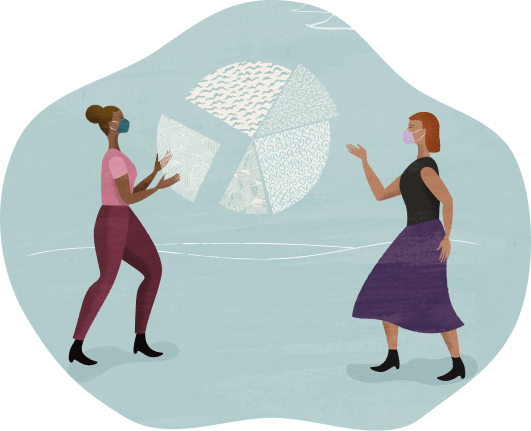 Intelligent Reporting
Display the KPIs that mean the most to you, as you log in. Easily extend service delivery data for augmented, companywide visibility.
NetSuite OpenAir tells us exactly how much revenue we're generating from our projects and our customers in real-time.
NetSuite OpenAir Reporting and Dashboards Benefits
---
NetSuite OpenAir Reporting and Dashboards Features
For many services organizations, metrics-based management is key to success. OpenAir reporting functionality lets project managers schedule, deliver, and download reports to ensure stakeholders are always aware of the status of projects.
Message and Status Reporting Portlets
OpenAir home page portlets give teams and managers all the information they need to track what matters to them. Use the message board to share information across the company, while reminders and status portlets provide visibility into specific project workflows. Easily see what needs action, and be notified in real time of project progress. Views of open reports, approvals, and request notifications provide full visibility of project status.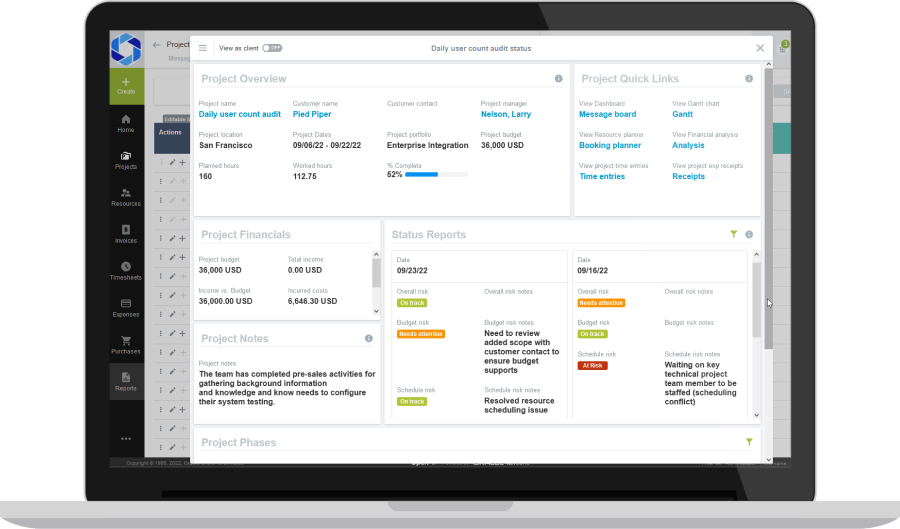 Tailored Dashboards
Dashboards can be configured for various roles, but OpenAir is all about personalization. Users can rearrange, minimize, or expand portlets and easily add or remove charts and reports.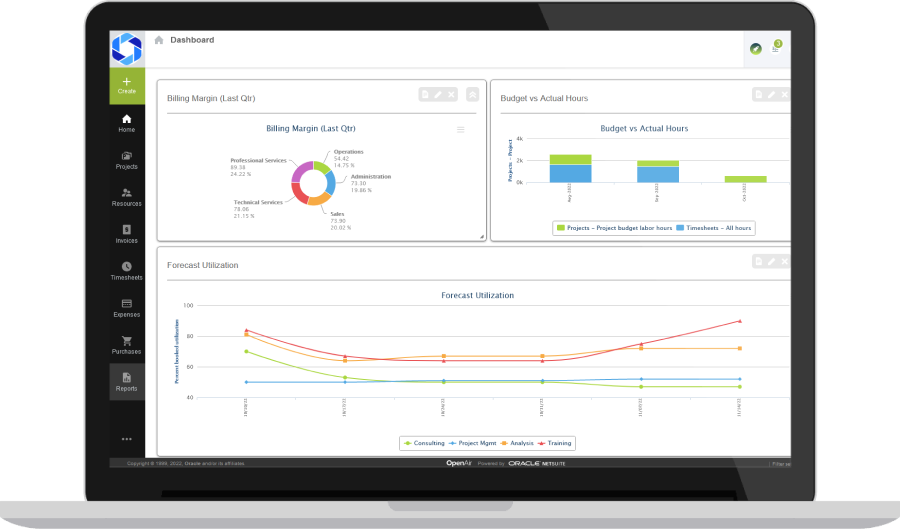 Detailed Reporting
Break reporting down by finances, delivery, staffing, and other KPIs. View a portfolio of projects or drill down to focus on one client, and create comprehensive historical and forecast reports. Filter status reports into overall risk categories so that issues can be corrected and projects delivered on time and on budget. Download, print, or share reports directly from the home screen for offline reporting.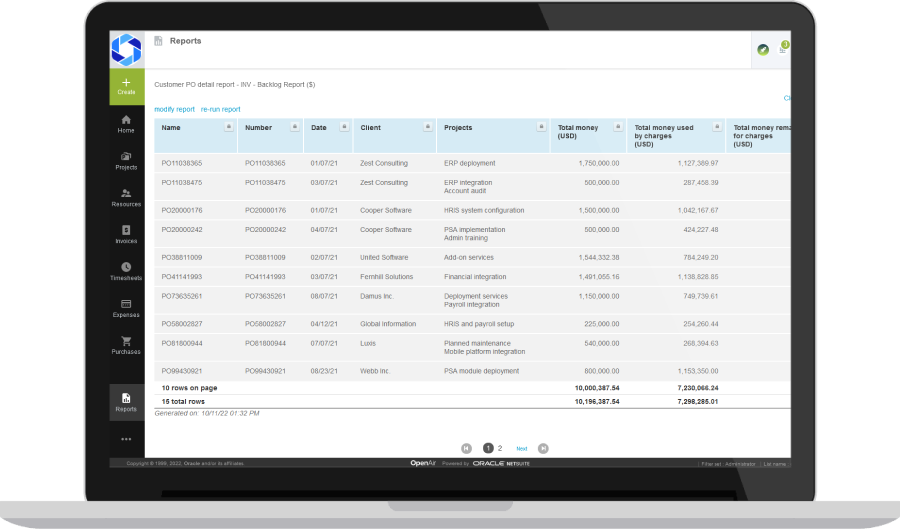 Rapid Report Editor
With OpenAir's new report editor, preview, view, or export reports and make quick changes to filters and ranges. Save time and effort while getting the exact view required.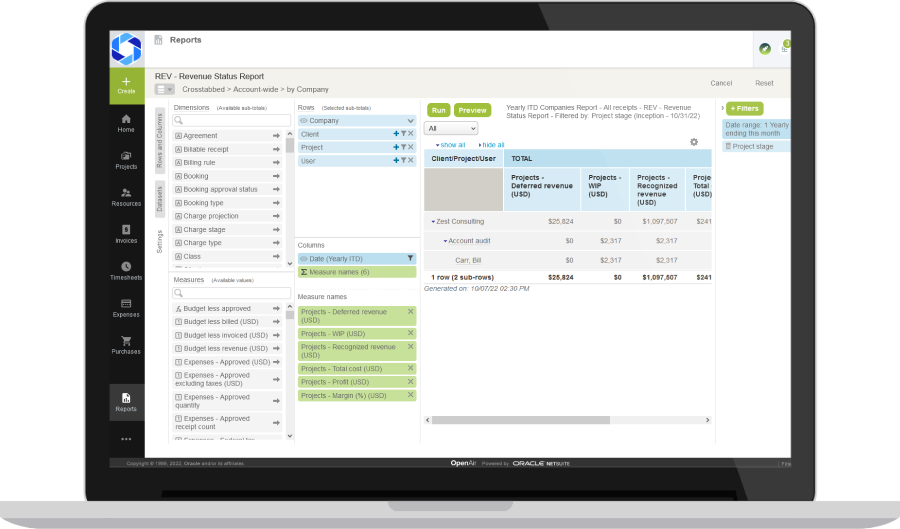 Business Intelligence
Easily and automatically capture and use OpenAir services delivery data within your BI solution. Augment data from OpenAir to create complex reports, or use OpenAir data to create dashboards and reports in your BI tool.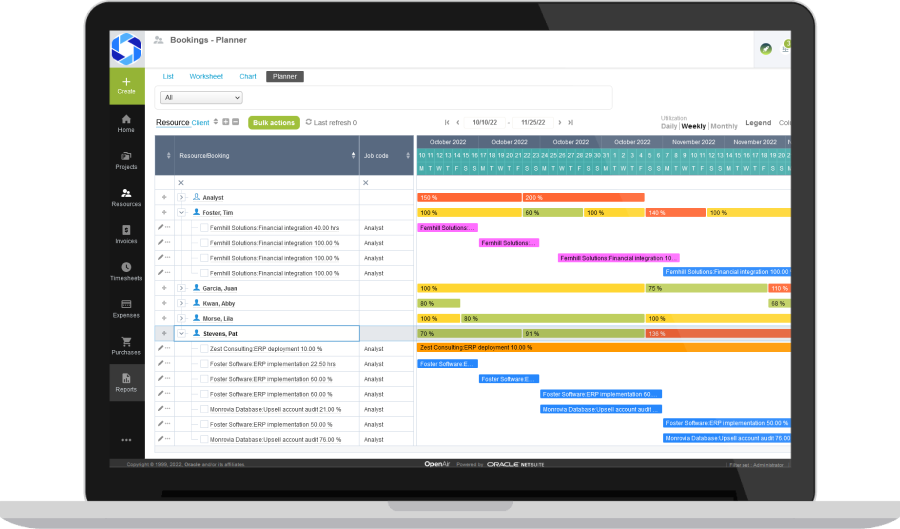 Challenges NetSuite OpenAir Reporting and Dashboards Solve
---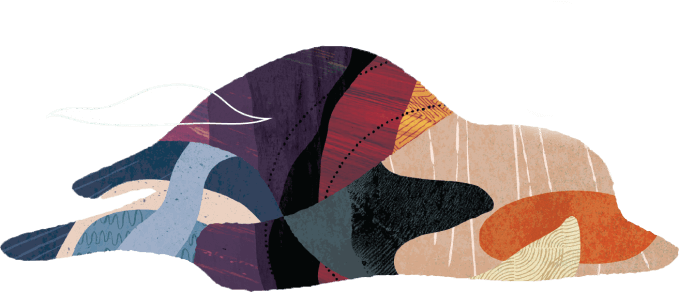 How Much Does NetSuite OpenAir Project Reporting and Dashboards Cost?
Companies of every size have made the move to NetSuite OpenAir. Looking for a better way to run your projects but wondering about the cost?
Users subscribe to NetSuite OpenAir for an annual license fee. Your license is made up of two main components: core platform and number of users. There is also a one-time implementation fee for initial setup.
Project reporting and dashboards are included with the NetSuite OpenAir module.